The 19th-century jewelry market saw increased mass-produced designs due to the Industrial Revolution innovations. New improvements in metalwork techniques also meant improved enameling designs. It is common to see various 19th-century Victorian pieces with enamel designs such as taille d'epargne and guilloché. Business firms and company manufacturers mass-produced a large amount of Victorian jewelry with metalwork engravings. Intricate designs and new techniques were introduced to Victorians, making quality pieces more accessible and worn with daytime casual looks.  Before the mid-19th century, elaborate and fashionable jewelry was often confined to the evening for special occasions. After electroplating techniques improved, lightweight gold-filled bracelets and other metal pieces became popular options for everyday attire. 
Taille d'epargne enamel designs were popular and used in Victorian Mourning-style jewelry. 20th-century reproductions were also common and inspired by original 19th-century designs. Zanathia Jewelry Collection
Improvements in electroplating techniques created a vast market of lightweight gold-filled jewelry, which included hinged bracelets and sweetheart keepsakes with intricate enamel. Zanathia Jewelry Collection
During the mid-19th century, it was common to see accessories with black enamel and gold tracery designs. This popular Victorian jewelry design is called taille d'epargne, French for 'saving cut. This intricate enamel technique originally emerged from England's Birmingham factories and became one of the statement looks of the Grand Period (1861-1880) within the Victorian Era. This period is historically known as the 'mourning era,' a time of grieving for Queen Victoria after her husband, Prince Albert, passed. Taille d'epargne enamel designs can be seen on various Victorian pieces, including hinged bracelets, brooches, and pins.
Victorian Taille d'epargne brooch. This enamel design was trendy during the 19th century, especially during mourning styles. The enamel technique was first produced in Birmingham Factories in England and later mass produced in America. Zanathia Jewelry Collection
By the end of the 19th century, taille d'epargne had been replaced with the Art Nouveau styles of the Aesthetic Period ((1880-1901). Plique-a-Jour enamel was a popular choice for many nature-themed Art Nouveau Era (c. the 1890s-1915) accessories. The design involves no backing and appears as a natural translucent glass-like enamel. Plique-a-Jour enamel examples can be seen on Art Nouveau pieces that feature insect and flower designs.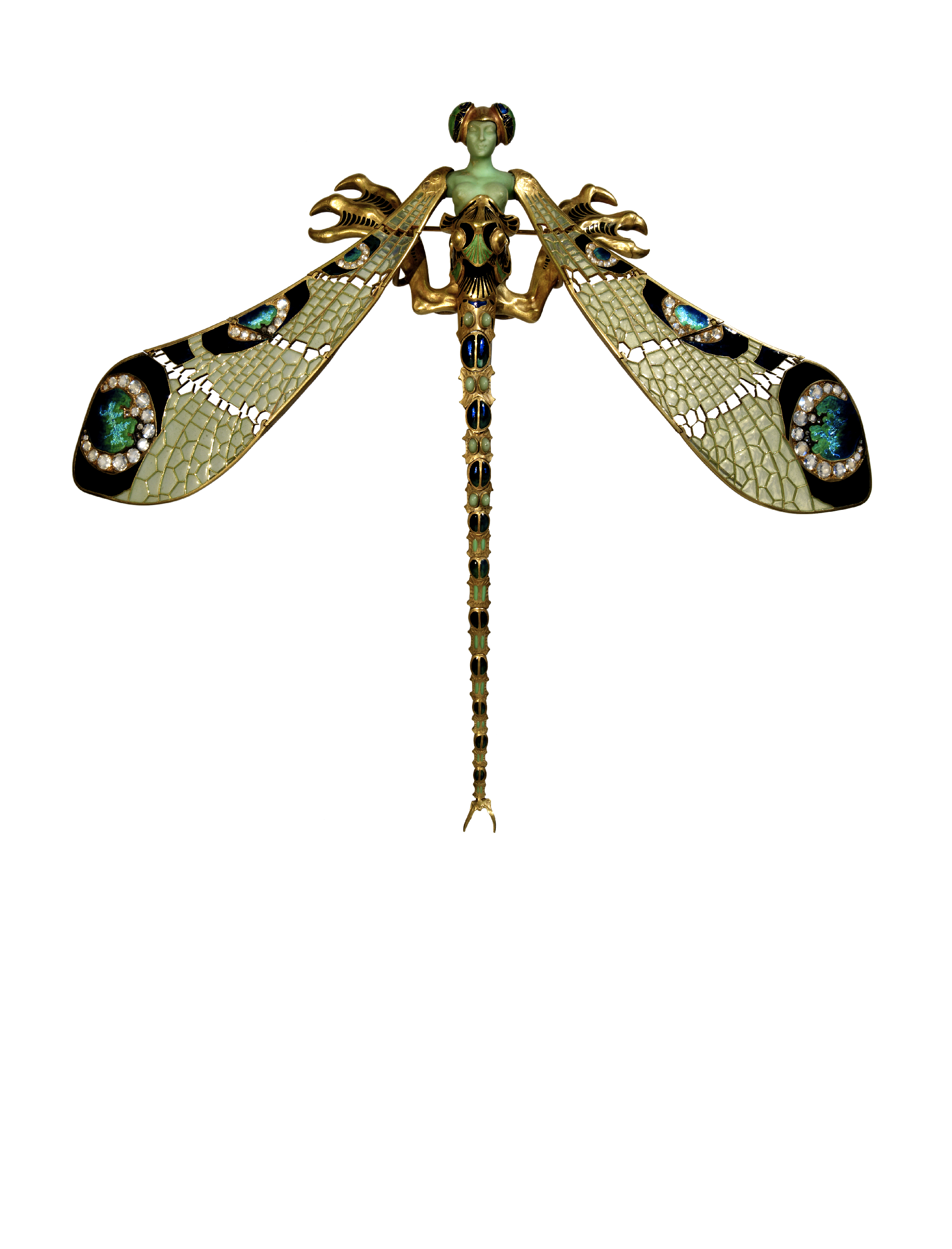 Plique-a-Jour enamel Dragonfly Woman ornament (1897-1898) was designed by French designer Renee Lalique (1860-1945). 
Metal-based jewelry pieces were among the most popular in the Victorian Era, and intricate engravings were applied to various designs. Guilloche is another metal technique that can be seen in 19th-century accessories. The name originates in France and French inventor Jean-Pierre-Francois Guillot (1730-1816). Initially, guilloche was created on a machine that made patterns by turning the overlapping ways in the material. This engraving technique can be commonly seen on brooches, pendants, and bracelets. Historically, guilloche was created with a lathe machine, such as a rose engine, that produced elaborate patterns. Translucent enamels often covered the guilloche designs, which emphasized the design patterns. 
Although enamel designs have been used for centuries, improved techniques and styles were rediscovered. Enamel jewelry was quite popular during the Victorian Era and included various kinds. When collecting antique enamel jewelry, knowing the distinct characteristics of different designs can help to authenticate and categorize accessories. Presently, original antique enamel designs such as taille d'epargne are highly collectible and historically significant to preserve. The quality craftsmanship and detail are still both fascinating and timeless.